The decision about which stroller or travel system to buy for your little one is a big decision indeed, and you
may be wondering if you should get the Bugaboo Cameleon stroller. Some parents are drawn to this model because it is considered to be the top-of-the-line stroller in the market, and others are drawn to it because they want to get a fully loaded stroller with a hassle-free user experience. Either way, you do want to make sure you are getting the right one, as a stroller is something you no doubt will be using almost every day for the first few years of your child's life, and maybe even afterward if you have more children.
Why It's Called the Cameleon
A cameleon, of course, is a lizard that changes colors to match its environment, but you may be wondering just what this has to do with the Bugaboo Cameleon stroller. When you take a closer look at the features in this particular stroller, you will find that it is loaded with features that adjust to your needs and to your baby's needs, too. It comes fully loaded, including everything from a maintenance kit to a mosquito net, so you will have all that you need available and on hand right from the start.
Adjusting to Baby's Needs
So just how does the Bugaboo Cameleon stroller adjust to your baby's needs? This is a stroller that comes with a removable bassinet, and the seating can be reversed to face forward or backward, too. This makes it ideal for a baby's comfort whether he is in the mood to see Mom and Dad or to face outward and take a look at the world as it rolls by. In addition, it has a reclining feature that allows you to lay even older babies and toddlers all the way down flat, and this is perfect for when your little one needs nap time while you are out and about.
Adjusting to Mom and Dad's Needs
Some strollers add an under seat cargo net to the travel system and consider this as all that needs to be done to accommodate the parents' needs. However, the Bugaboo Cameleon stroller offers so much more for parents than just an un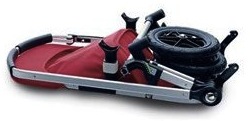 der seat cargo area. In addition to that storage feature, it also has an adjustable height handlebar, which means that parents of all sizes can comfortably push the stroller along. It also has a fold-down mechanism that allows you to fold it down into a compact size in just a few seconds. There is even a carrying case included with the purchase that makes it ideal for transport and travel.
Is It Really That Great?
After you take some time to read through the specs on the Bugaboo Cameleon stroller, you will find that there quite simply is nothing else like it on the market today. This is a stroller that has thought of everything, yet you may be wondering just how great it really is. Many parents have already purchased one of these strollers, and here are the things they are saying about it:
"I've used other strollers in the past, and I can tell you that the Cameleon is worth every dime."
— Hope B.
"The Cameleon is by far my favorite baby gear item. It's so fun to use, and we all just love getting out of the house because of it."
— Mackenzie E.
Do You Want One?
Once you take a few minutes to learn how great the Bugaboo Cameleon stroller really is, you no doubt will want to order one for yourself. You will find that the best way to order it is online. You simply have to choose the color of fabric you want, place your order, and then wait a few days for it to be shipped right to you!
–> Click HERE To Get Your Bugaboo Cameleon Stroller Now! <–
Related Baby Stroller Reviews :